Modern businesses actively seek opportunities to reduce stress among team members. For example, in Europe, approximately 38% of office employees have access to psychological support directly in their workplaces. It is essential to address issues that can harm productivity and mental well-being:

Communication challenges within the team.

Excessive workload and task saturation.

Rigidity of deadlines.

Lack of rest or short breaks.

Neglecting the social aspect due to limited time and resources, among other factors.
In Ukraine, in addition to the challenges above, there is also the ongoing full-scale war, which certainly doesn't contribute to an improved psychological state. The Lampa Software team understands the situation's complexity and strives to minimize its impact on their employees by engaging in social activities.
Why Is It Important to Return Into Society? 
Every employee is an individual who expresses themselves to some extent in their work and communication within the team. However, if corporate relationships are not combined with a social aspect, it can lead to tension and increased stress levels within the company.
Social interaction primarily involves people interacting with each other, not necessarily in work-related processes. Communication, engaging in shared activities outside of work tasks, proactive initiatives, and more are all components that help unite a team around a common goal, even in the short term.
Social interaction is crucial in building relationships within a team, reducing stress levels, and increasing team productivity. With this in mind, Lampa Software has implemented various practices to integrate the social aspect into the work process.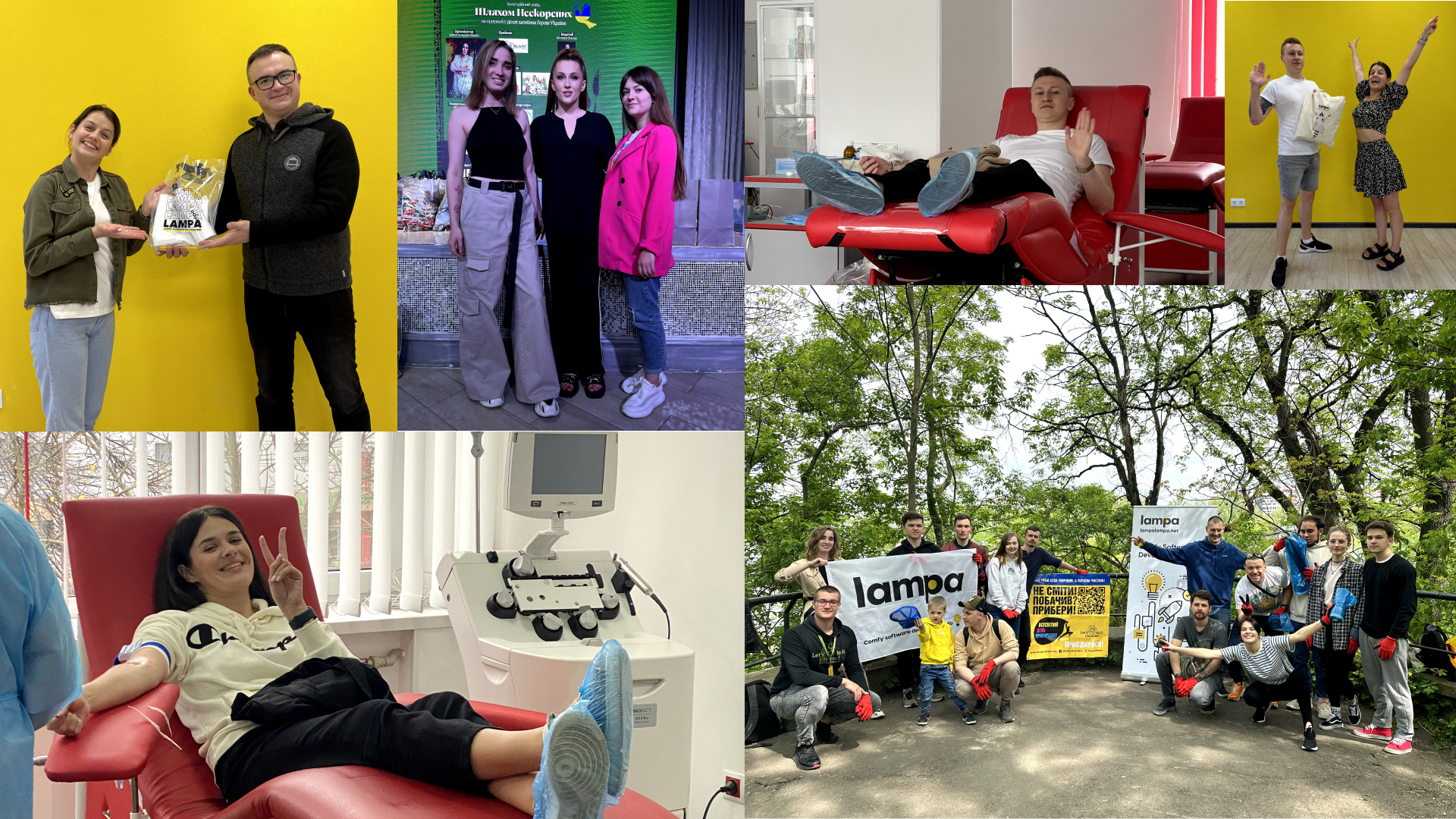 Social Events Case From Lampa Software
Inspired by the experience of international companies, Lampa Software specialists have added several social activities to their work schedules. You'll learn about some of them in this article.
In April 2023, a charity competition was completed to raise funds for the needs of the Vinnytsia animal shelter "Ostrivets". The team members initiated the launch of a campaign in which everyone could sponsor the support of the institution and compete for a prize from Lampa Software.
As a result, more than UAH 11,000 was raised and donated to "Ostrivets" for the needs of the animals. Ievgenii Borodin became the winner and received a present (a T-shirt, a water bottle, two notebooks, and two pens in corporate design) from Lampa Software, and we congratulate him on this.
While blood donation used to be considered a common manifestation of humanitarianism, with the outbreak of a full-scale war, this process became necessary to provide treatment to Ukraine's defenders.
The Lampa Software team initiated a voluntary blood donation to medical institutions, supported by almost the entire team. Representatives of the company periodically visit clinics where they are already included in the list of honorary donors, donating blood to save the lives of soldiers and civilians.
"Ukraine is our common home. Let's make it more beautiful!" This was the slogan of this year's first cleanup of the Vinnytsia coastal location with the Lampa Software team.
The organization letsdoitukraine warmly welcomed the social initiative, and its representative Bohdan even joined the process. As a result, 11 bags of garbage (about 37 kg) were collected and taken away, and the location became cleaner.  
Another social initiative of Lampa Software was participation in the charitable project "On the Path of the Unconquered" (an organizer). Its goal is to raise funds to support the families of Ukrainian defenders who lost their lives while defending their homeland against aggressors.
As a result, the children received many gifts from the Lampa Software team, and the team was thanked for participating in the project with the Ukrainian flag.
Final Words
Social initiative and related activities are an opportunity to break away from the work routine and do something really useful. 
Lampa Software plans to develop this element further in the corporate life of the team and encourages all those who care to join the campaigns aimed at supporting Ukraine and its people.
FAQ
1. How does Lampa Software incorporate social activities into its work culture?
Lampa Software integrates social activities through initiatives like charity raffles, blood donation drives, community clean-up projects, and participation in charitable events. These activities provide team members with opportunities to contribute to social causes, interact outside of work tasks, and make a positive impact on the community.
2. What benefits does Lampa Software believe social responsibility brings to its team and the broader society?
Lampa Software believes that social responsibility initiatives not only strengthen team bonds and reduce stress levels among employees but also contribute to the betterment of society. By engaging in activities that support charitable causes, the company aims to make a meaningful difference and inspire others to join similar campaigns.
3. Why does Lampa Software emphasize the importance of social interaction in the workplace?
Lampa Software recognizes that social interaction is vital for building strong team relationships, reducing stress, and increasing overall productivity. While work-related tasks are essential, fostering social connections among team members helps create a more cohesive and supportive work environment.
4. Can you provide an example of a social initiative led by Lampa Software?
One notable example is the charity competition held in April 2023, where Lampa Software organized a raffle to raise funds for the Vinnytsia animal shelter "Ostrivets." Team members sponsored the institution and competed for prizes, resulting in over UAH 11,000 raised to support the shelter's needs.
5. How does Lampa Software support charitable causes beyond its own initiatives?
Lampa Software actively participates in external charitable projects, such as the "On the Path of the Unconquered" initiative, which supports the families of Ukrainian defenders who lost their lives defending the homeland. The company's involvement in such projects reflects its commitment to contributing positively to the community.
Recommended articles
Explore the Latest Blogs on Trends and Technology.
Subscribe via email and know it all first!
Explore the Latest Blogs on Trends and Technology.